Eminenza Residences - LOCATION
Eminenza Residences is located in Barangay Kaypian San Jose del Monte, Bulacan. It is strategically and conveniently situated along Quirino Highway, the main thoroughfare that connects Bulacan and Quezon City and the route of the proposed light rail transit line in North Luzon. It is within walking distance from the newly-opened Starmall commercial center and near from various business commercial establishments, schools, hospitals and clinics, and public market.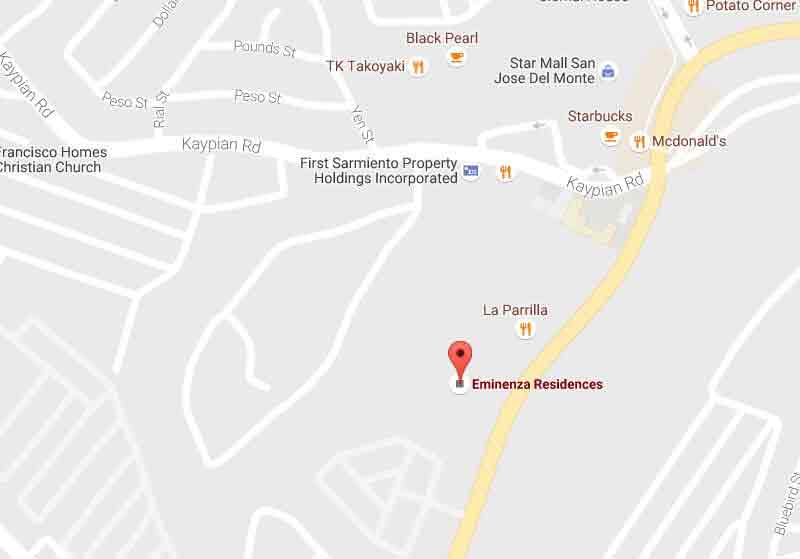 You can find the Eminenza Residences in San Jose del Monte in Barangay Kaypian in Bulacan. Situated along the Quirino Highway you will find that the residences are at a very strategic location so that you can enjoy a quiet and peaceful home life while being close to a lot of things. The property location puts the residences close to a lot of conveniences and establishments whether you drive your own private vehicle or have to rely on public transportation.
The Quirino Highway is a main roadway that connects Quezon City and Bulacan and the residences are located right off this highway. This route is also where it is proposed that the light rail transit line will be running for North Luzon. This will add even more convenience for those who do not own their own private transportation. The location puts the residences within walking distance to a number of commercial buildings and complexes including the new Starmall Commercial Center. There are a number of commercial establishments, business establishments, hospitals, clinics and schools along with public markets close by as well.
The residence is close to the Members Church of God International as well as the Church of Jesus Christ of Latter Day Saints. The North Caloocan Hospital is the closest as well as the Grace General Hospital which is less than half a km and also the Skyline Hospital and Medical Center which is less than 2 km away are also within close commute to the residences. The Philippine Heart Center and the East Avenue Medical Center are both less than 30 kilometers away.
The community is located within close vicinity to government buildings such as the San Jose Del Monte City hall which is just 3.5 kilometers away. Just under a kilometer away you can find the Star Mall San Jose Del Monte. The SM Fairview Commercial Center is less than 12 kilometers away. Farther away you can find other commercial centers as well including UP-Ayala Land TechnoHub and the SM City North EDSA.
Jollibbee and Susana Mart as well as ChowKing are literally next to the residences offering homeowners close by places to grab some groceries or a quick bite. Further away from the property while being within close commute you will find a number of commercial and business properties. Georgia College and Sienna College are both just a couple minutes away from the property while The University of the Philippines is less than 25 km away and the Ateneo Manilla University which is less than 30 km away. You will also find Fatima University and St. Dominic-Savio College within close reach. The North Avenue station and Quezon Avenue station are within 25 kilometers from the property and allow for commute for those who don't have their very own private transportation or for those trips that are too far to drive on your own.